80% of deaths from COVID-19 caused by lack of vaccination — FG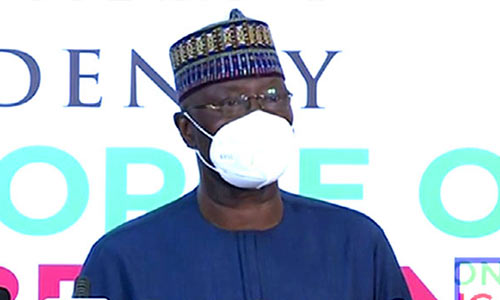 By Joseph Ayinde
The federal government has said that it has evidence to show that more than 80 per cent of the deaths recorded from COVID-19 infection in recent times were those who did not take the vaccine jab.
Speaking at a sensitisation meeting with the leadership of the National Association Nigerian Students, the Executive Director of the National Healthcare Development Agency (NPHCDA), Dr. Faisal Shuaib, said that COVID-19 vaccines being administered in the country have proven to be safe and efficacious, adding that six million Nigerians have been vaccinated without any adverse effect.
Shuaib said that evidence before the agency showed that most of the deaths resulting from COVID-19 infection were caused by non-vaccination.
"Over 80 per cent of those who have died due to COVID-19 were those who were not vaccinated. What the data is showing us is that over 80 per cent of those people who have died of COVID-19 in Nigeria were those who were unvaccinated. Breaking this down, it means that eight out 10 who becomes sick with COVID-19 could die because they were unvaccinated. So, we have proof that COVID-19 vaccines actually work, adding that all the insinuations that anyone who takes the vaccine will fall down and die are false and should be discountenanced," he said.
He described the meeting with the NANS leadership as an exceptional opportunity to partner with the youths of the country that are referred to as the future generation.
He said the agency had in the last few months been engaging in one way or the other with the association Nigerian students.
Shuaib said that the key message for all Nigerians' is the need to ramp up vaccination so that we can go back to our normal ways of lives and of doing business.
"In the last couple of months over six million Nigerians have been vaccinated with COVID-19 vaccines . Surely six million Nigerians cannot be wrong, these vaccines is having been proven by these individuals, their family members, friends, co- workers and neighbours to be safe, they are living examples of what we have been talking about in the last months that these vaccines are safe," he said
In his response, the NANS president, Mr. Sunday Dayo said:
"The NANS leadership after wide consultation with all rank and file including stakeholders and experts in the health sector along side our independent survey and investigation on the vaccination of citizens exercise embarked on by National Primary Health Care Development Agency, we wish to announce the safety of this vaccine for all Nigerians and Nigerian students in particular, to demonstrate acceptance and endorsement of this vaccine for all in line with this resolution , my humble self as National President along side Senate President, National Executive Council Members and members of the National Secretariat of NANS shall be taking our first jab today."