Wife's Infidelity: Man drinks sniper; forces liquid into wife's throat in Agege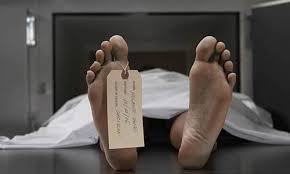 By Dayo Badmus, 
A man simply identified as Baba Gbemi of Fashola Street, Papa Ashafa, Agege, Lagos has killed himself and also poison his wife.
According to a neighbour, names withheld, the deceased was an Okada rider, while the wife is a petty trader.
The couple was said to have returned from a family event in Abeokuta, before the sad incident.
"They attended a burial ceremony in Abeokuta. The husband came home before the wife. He had parked his motorcycle and sat in front of the house.
He later went to purchase something and went inside their room. After a while the wife came back, suddenly we started hearing loud noise from their room.
But because we are used to their fight, we didn't quickly go in to intervene.
"When the noise became intense, people rushed to their aid, unfortunately the door was locked from behind. Neighbors made all efforts to pull the door down and we met the couple writhing in pain," the neighbour said.
It was discovered that Baba Gbemi had drunk sniper and he also forced it into the wife's mouth.
They were rushed to hospital and Baba Gbemi was confirmed dead, while the wife is currently undergoing treatment.
Upon investigation, this medium gathered that deceased had always been accusing his wife of infidelity.
The couple reportedly had two children, a girl and a boy.
The girl is a student of a higher institutions, while the boy is 16 years old secondary school student.
Already the case has been reported at Alabo Police Station and the family of deceased had been contacted.
(The Gazelle)