Kogi Governor, Yahya Bello dumps Tinubu campaign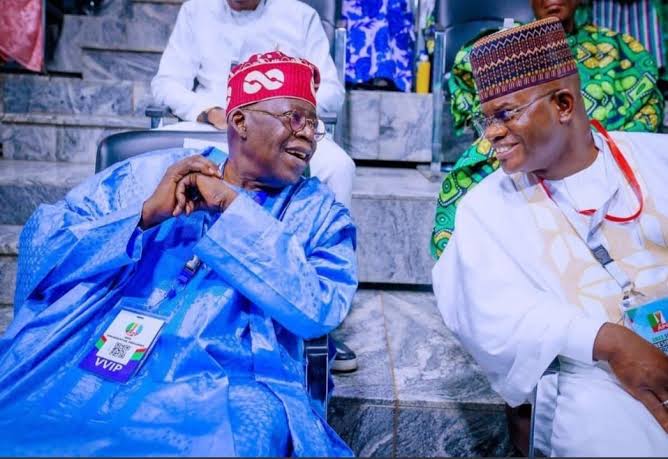 By Dayo Badmus,
Governor of Kogi state, Yahya Bello may have dumped Senator Bola Ahmed Tinubu and his party the All Progressives Congress's Presidential Campaign Council according to Sunday Tribune.
The Kogi governor's new stance is reportedly informed by permutations in the North-Central State ahead of November governorship election.
The source revealed that Governor Bello, who incidentally is the National Youth Coordinator of the Tinubu-Shettima Presidential Campaign Council, has since developed apprehension towards a Tinubu presidency as a result of feelers reaching him that the lawmaker representing Ikeja Federal Constituency in the House of Representatives and Secretary of the APC Presidential Campaign Council, Honourable James Faleke, may throw his hat into the ring for the APC governorship ticket in the state.
Faleke is a confidant of Tinubu and was running mate to the APC governorship candidate in the November 2015 governorship election, Abubakar Audu, who died shortly after casting his ballot.
Checks revealed that political parties are expected to conduct their governorship primary between March and April, 2023, almost immediately after the general election.
Sources revealed that Governor Bello is in a quandary as his confidants have cautioned him to review his open support for Tinubu, whom they noted would be holding the yam and the knife on who gets what in the party if he wins next month's presidential race.
Kogi West's agitation for power shift Another chieftain of the party in Kogi State who craved not to be named said Bello is not favourably disposed to power shift to Kogi West and has already given his word to the incumbent Accountant General in the state, Jubril Mommoh, who is from Kogi East, as his anointed choice.
He said: "The governor wants a close confidant, who can cover his tracks as his successor.
"So, he is wary of Tinubu winning the presidential election. He knows that Tinubu will look at how he emerged, with the support of northern governors for power shift and may look in the direction of Kogi West and Faleke.
"The PDP may also settle for a candidate from Kogi West in the November election."
The source further disclosed that apart from the sitting Kogi Accountant General, the incumbent Deputy Governor, Edward Onoja, who is a former Chief of Staff, also from Kogi East, is also interested in the APC ticket for the Lugard House.
It could not, however, be confirmed if the Secretary of the APC PCC, James Faleke, has signified interest for the party ticket.
The APC source further revealed that Tinubu, who personally signed the appointment letter of Governor Bello as the National Youth Coordinator for his campaign issued to the latter last September was already aware of the governor's half-hearted commitment to his aspiration.
He said: "He knows some of the governors who could undermine him. That's why he is relying on the Independent Campaign Council he created to drive his cam-"Faleke is from the state. Same is the Minister of State, Federal Capital Territory, Ha- jiya Ramatu Tijani Aliyu, Hon- ourable Baba Ali and a host of others who have been galvanising support for Tinubu in the state."
(TRIBUNE)