Lagos 2023: Group to celebrate GAC's endorsement of Sanwo-Olu's 2nd Term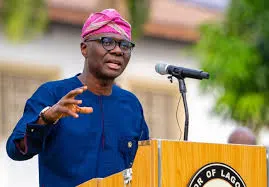 By Dayo Badmus, 
A pan-Lagos indigenous organization, Egbe Omoluabi Eko (Egbe), has said that, the reported endorsement of Governor Babajide Sanwo-Olu for a second term in office by the Apex Lagos State political body of the All Progressives Congress (APC), the Governor's Advisory Council (GAC), calls for a huge celebration.
According to the Convener of the organization, Ogbeni Ekundina Ibrahim, his members have commenced arrangement to hit the town with a big rally to give kudos to the highly revered members of the GAC for a job well done.
Ogbeni Ekundina disclosed that, signals have gone out to several right groups and pro-democracy organizations to get prepared for the grandmother of all rallies to show appreciation for the heart-warming decision being expected for long.
The group anchor man said the rally will come before the formal declaration by the governor later, adding that, the coast is now clear for Governor Babajide Olusola Sanwo-Olu to confide in us the date for his declaration because people are anxious to listen to him.
"Although, we have never entertained any iota of doubt that, Sanwo-Olu would be considered for a second term in office, we however never expected it to be surprisingly so sudden like this. And so, the GAC's wise decision calls for a celebration of sort. We will shake the town to let who cares to listen that, we are happy with the GAC. The peaceful rally will be colourful with the intent to showcase our love for democracy and good governance," Ekundina declared with all the emphasis at his disposal.
On Monday, 18 April, 2022, the news of the GAC's decision to endorse the governor for a second term in office hit the town and the reactions that welcomed the news was an indication that, the endorsement was a welcomed development.
GAC's secretary, Alhaji Mutiu Are, who announced the Council's decision to the public was reported to have disclosed that the decision was premised around the satisfactory performance and achievement of the Governor in his first term in office and the need for continuity of the good work he has initiated.
The group leader, Ekundina therefore urged the leadership of the APC in the state to walk their talk by making sure that they do the needful towards their primaries to make sure that people's expectations are not dashed.