Oshoffa moves to revamp Celestial Church Seminary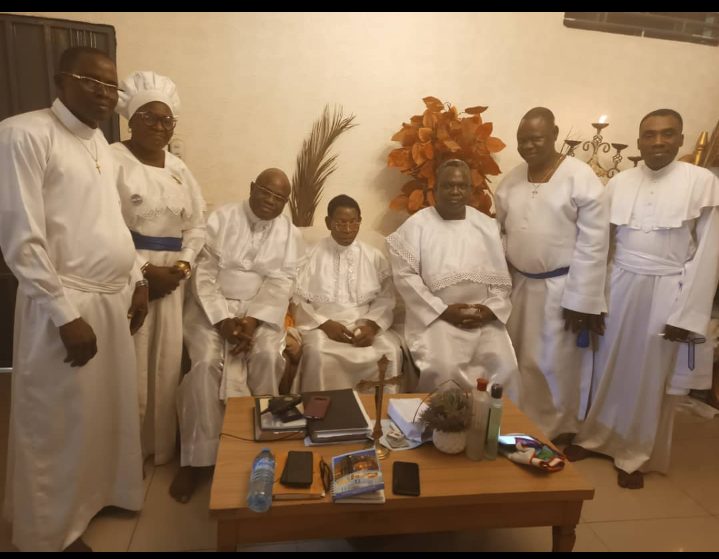 By Dayo Badmus,
Pastor and Spiritual Head of the Celestial Church of Christ, Revd. Emmanuel Mobiyina Friday Oshoffa has inaugurated a Panel of Investigation and Implementation comprising seven elders, in a move to reorganize, update the structures and workings of the church's aged Seminary.
The Seminary, which is located on the Lagos-Ibadan expressway is over 35 years old judging from its humble, informal beginnings at the church's national headquarters in Makoko, Lagos.
Feedback from the staff, students, and graduates of the gospel institution reportedly calls for an immediate overhaul of its systems, structures, people and processes
To this end, on Monday 10 January 2022 in Celestial City, Imeko, Ogun State, Pastor Oshoffa inaugurated the seven-man panel led by Dr. Kunle Hamilton, a prophet and pioneer of formal leadership training in the Celestial Church as Chairman; Dr. Olusegun Okeowo, an ex-US marine and superior evangelist as Vice Chairman; and Mr. Korede Ogunmola, a publisher and evangelist as Secretary.
Other eminent elders on the panel are AVSE Elijah Bello, Shepherd, CCC Christ Ambassador Parish, Agege, Lagos; AVSE Sunkanmi Omidiora, Shepherd, CCC Ojodu Central Parish; MC Hannah Olowolayemo and MC Iyabo Osifeso.
Speaking to journalists, upon his return to Lagos, the panel chairman, Dr. Hamiilton said, "All seven of us have been receiving inspiring calls from all over the world since the news of our appointment and inauguration went viral. Celestians have very high expectations of our panel.
"We thank Pastor EMF Oshoffa for this opportunity. He gave us his blessings and urged us to perform our tasks without fear or favour. Our panel is mandated to probe the people, processes, finances, administration and current curriculum of studies within the CCC Seminary with a view to recommend the best measures towards revamping and upscaling the productivity of the institution when reopened.