Community leader cautions youths against illegal bunkering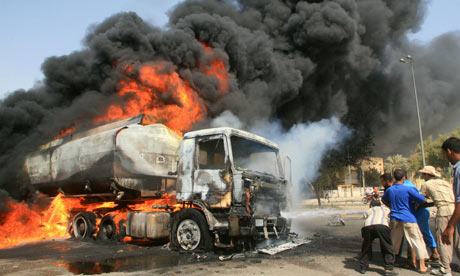 By Abolaji Adebayo
One of the community leaders in Oshodi, the chairman of Isokan Community Development Association (CDA), Mr. Kareem Fawole, has frown at the youths who involved in scooping diesel fuel from a falling tanker that subsequently caused fore outbreak along DHL Bridge, Charity Oshodi last week, condemning the act which he said could ruin the whole community.
The tanker had caught fire while some unscrupulous members of the community were trying to scoop out the fuel being carried by the tanker which fell along the road last week.
There was no casualty recorded from the incident though as the Lagos State Emergency Management Agency (LASEMA) promptly intervene to quench the fire.
Condemning the illegal act by the youths, Fawole, who said he witnessed the incident, stated that it could claim the lives of the youths involved and endanger the entire community.
He, therefore, cautioned the youths to desist from such act, warning that the community would not be at peace with anybody caught involving in such act.
The community chairman also urged the parents to always monitor their children and instill good behaviours in them so that they will not be carried away by peer pressure or get influenced negatively by the environment.
He noted that the people involved in the illegal activities were lucky because diesel is not as highly inflammable as petrol and the quick intervention of LASEMA to control the situation.