COVID-19: El-Rufai gives movement restriction order, relaxes order on Wednesday, Thursday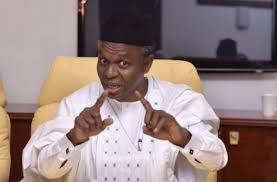 Covernor of Kaduna State, Mallam Nasir El-Rufai, has backed up the restriction order in the state by his deputy governor, Dr. Hadiza Sabuwa Balarabe.
The governor gave the order from the isolation center while addressing the citizens through his twitter handle saying: "the Kaduna State Government wishes to remind citizens that the restriction of movement is back in force from today. It will be temporarily lifted every week on Wednesday and Thursday."
He endorsed the statement by his deputy, @DrHadiza Balarabe, relaxing the restrictions on movement for Wednesday and Thursday this week.
The deputy governor in a statement made available on her twitter on Wednesday April 1, 2020 had relaxed the restriction of movement to allow access to food bank.
The statement read: "Dear people of Kaduna State, you are all aware that we are in extraordinary time because of Covid-19. This necessitates your government's decision to impose quarantine on the state.
"We are not oblivious that this decision has created some inconvenience for people, and we apologize. To mitigate this, the Kaduna State Government has decided to temporarily relax the restriction of movement. From 3pm to 12 midnight, tomorrow, Thursday 2nd April 2020. This is to enable people to stock on food and other essentials.
"Subsequently, the restriction of movement will be lifted every Tuesday and Wednesday. Trades in food and other essentials will open their shops on these two days."
However, some social media members have opposing opinion to the decision.
Yuslim09612359: "Great idea but we are @ risk when pple are given opportunity to be out in less than 48hours, just imagine the crowd 4 the hours.better we implement market location in all areas in the state. Just observation and suggestion @GovKaduna.
"May Allah continue to grant u recovery sir!"
Hassan Musa Abbah @sinotwist: "Please allow go out for our Jumaat prayer and Sunday worship. If Corona virus will not infect us in the market, it will definitely not infect us at the worship centers."