Ekiti PDP reaffirms Makinde as leader of PDP in Southwest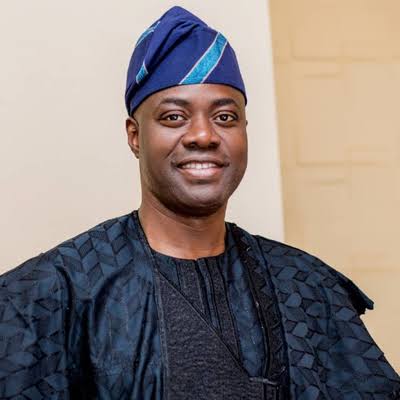 By Emmanuel Awosika
The Ekiti Chapter of the Peoples Democratic Party (PDP) has said Seyi Makinde remains the rightful leader of the PDP in the Southwest region of the country.
The party was forced to reaffirm its position on the issue after former Governor of Ekiti state, Ayo Fayose, made comments against Makinde's leadership of the party's Southwest arm.
The party dissociated itself from Fayose's comments, describing them as an attempt to destabilise the party.
In a statement released by the State Publicity Secretary, Chief Sanya Adesanya, the party called on members to avoid attempts at securing power at the expense of party cohesion.
It also urged Fayose to support Makinde's leadership instead of asking party executives to attack his perceived enemies.
The statement reads: "Gov. Seyi Makinde is the leader of PDP in Southwest and the Ekiti State Chapter is solidly behind him. This is not to say that former Governor Ayo Fayose can be wished away in the scheme of things as one of the party leaders in the zone, but he should understand that he does not own the party and as such, should respect the existing political organogram/arrangements which he once benefitted from, as the only elected PDP Governor in the zone between 2014 and 2018.
"What we expect from him is to give Gov Makinde the same support he enjoyed from PDP leaders across the zone, when he (Fayose) was at the helms of affairs instead of working against the progress of the party.
"The party expressed surprise on the allegations levelled against Gov Makinde by the other group that he is the sponsor of lawsuits instituted against the party for unlawful manipulation of our Congresses in Ekiti State to favour them. This is laughable and confirms our suspicion that Fayose decided to move against Gov Makinde when he couldn't get him to support his unconstitutional takeover of the party structure in Ekiti State. We know former Gov Fayose does not believe in a free and fair party Primary/Congress but a manipulated process and does not like to be challenged.
"For emphasis, those being paraded by Fayose as representatives of Ekiti PDP SWC are merely members of his Osoko Political Assembly (OPA), an association, who must dance to only his tunes. As a result, whatever it does or any decision taken by any of them or by all of them does not represent the position of Ekiti State PDP, rather a sole decision of Mr Ayo Fayose as an individual.
"We hereby wish to salute the courage of Gov. Seyi Makinde, and appeal to him to remain steadfast and focused in his efforts to bring the party back to the right path of honour where every member would be proud of."