Stop using 'Manpower' to impress female –NAFDAC Warn men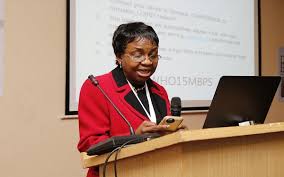 By Dayo Badmus, 
The National Agency for Food and Drug Administration and Control (NAFDAC) has urged Nigerian men against the use of aphrodisiacs, or performance-enhancing chemicals, to impress their female companions.
Prof. Moji Adeyeye, the Director General of NAFDAC, said this in a statement for the Christmas and New Year goodwill message to Nigerians.
According to a release by Mr Olusayo Akintola, the agency's resident media consultant, Nigeria is flooded with performance-enhancing medications, also known as "Manpower" for use among men.
He claimed that the majority of performance-enhancing medications are not registered with NAFDAC, and that some of the drugs are smuggled into the country.
"If they were registered, the producers and peddlers wouldn't be able to get it into stores, social media sites, or on the streets," he claimed.
"Many men have died as a result of consuming such medications, and their families have blamed their deaths on fictitious witches in the village." Some of these drugs' manufacturers will claim that they have no negative effects.
"Because the majority of these items did not go through the agency's licensing process, the agency will not stop pursuing the peddlers of such deadly pharmaceuticals until they are brought to justice for breaking the rules."
According to Adeyeye, most people have a need for closeness and a good sexual life, which influences their entire well-being.