Napoli to rename stadium in honour of Diego Maradona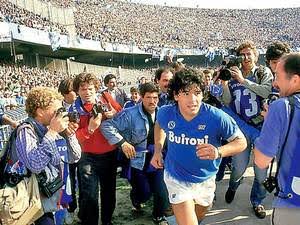 By Emmanuel Awosika
Italian club Napoli are mulling a plan to rename their stadium after Diego Maradona after the legendary footballer died on Wednesday.
Maradona played for Napoli in a spell that lasted seven years between 1984 and 1991, becoming a fan favourite during his time there.
The forward, who joined from La Liga giants Barcelona, inspired the Azzuri to win two Serie A titles as well one Coppa Italia and UEFA Cup.
Napoli President confirmed to the media that the club was indeed considering renaming its stadium in honour of Maradona.
"We can consider the idea of calling our stadium San Paolo-Diego Armando Maradona," De Laurentiis said to French sports channel RMC Sport.
Mayor of Naples Luigi De Magistris has also thrown his weight behind the move to rename the San Paolo stadium after the late Maradona.
"We are already putting it together this morning, taking the first steps to dedicate Naples stadium to Maradona," De Magistris said.
Tributes have continued to flow since the death of Maradona was announced on Wednesday. A three-day national mourning has also been declared in Maradona's home country Argentina.