We don't need dating site, Adeboye's son reveals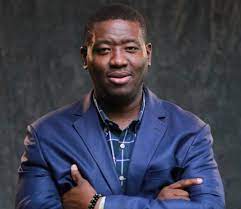 By Dayo Badmus, 
Pastor Adeboye's son, Leke Adeboye, disagrees with launch of RCCG Christian online dating app
Leke Adeboye, Son of RCCG General Overseer, Adejare Adeboye has said christians dont need a website to connect for marriage.
According to him, the old fashion way of using prayer and the holy spirit to find a spouse should be adopted.
The RCCG, City of David parish had announced the launch of their Christian online dating site last week where single brothers and sisters of the religious organization can connect.
In his reaction, Leke took to his Instagram page to state categorically that the Church does not need such.
Leke shared photos of past relationships of church members who connected through traditional means.
"Seeds connecting with seeds. We don't need a dating app! We old fashion. We use prayer and holy spirit to find each other", he wrote..
The church had accompanied the launch of the site which mesaages that,
"This website, its content (including any information provided by registrants), and activities of connectnow is for the purpose of connecting for courtship and marriage only and is not intended to replace or serve as a substitute for any due diligence/background checks to be conducted by the registrants prior to connecting.
"Every registrant must conduct his or her own independent background check before connecting with another registrant on this platform.
"The Redeemed Christian Church of God, City of David Parish, makes no representation or warranty and expressly disclaims any and all liability concerning damages sustained by any registrant as a result of connecting with anyone on this platform," it stated on the church's website.
He also shared pictures of couples who met the old-fashioned way. Leke has now edited the later part of his caption, perhaps after being admonished to.