Why Benin Republic released Sunday Igboho to Professor Akintoye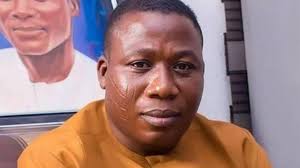 By Dayo Badmus, 
More facts have emerged on why Popular Yoruba Nation activist, Chief Sunday Adeyemo (Igboho) was released after 8 months in detention.
The Yoruba Nation activist was released to Professor Banji Akintoye, who is the leader of the Ilana Omo Oodua Worldwide, on Monday, March 7, 2022 on health grounds.
Maxwell Adeleye, a spokesman for the Ilana Omo Oodua, also confirmed the release of Sunday Igboho, describing it as a "triumph of truth over darkness in Yoruba Land.
According to latest information, the activist was released to Professor Akintoye for medical reasons.
Sunday Igboho is unable to leave Benin Republic at this time because he has not been fully released.
Igboho's counsel, Yomi Alliyu, told newsmen on Monday that, "Igboho has not been fully released; he was only released to be taken to the hospital. The last time we spoke, I told you that we were making arrangements to take care of his health. So, he was released based on health grounds."