Why I hated being called Alfa – Isolo Chief Imam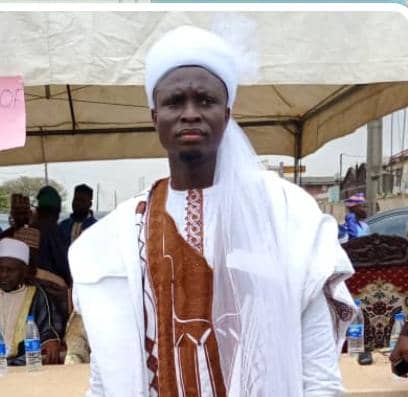 The Grand Chief Imam of Isolo, Alhaji Qasim Abayomi Hassan Ajiyan, has revealed how he was not usually happy whenever he was called Alfa. In this interview with Rasaq Adebayo, the cleric (a LASU graduate of Islamic Studies) narrated his journey from being a motor boy and car wash attendant to his present status. EXCERPTS:
Can you talk briefly about yourself, your background? 
I give thanks to Almighty Allah who's my creator, my sustainer. He created me to be a Muslim and I thank him for that. I seek his forgiveness and guidance in all my endeavours. I appreciate Allah and the efforts made by my parents because if not for them I wouldn't have become what I am today, they are the pillars, they are the ones whom Allah used for me to become great in Isolo being the Chief Imam of Isolo.
First, I went to Ansar-Ud-Deen Primary School in Isolo for my First School Leaving Certificate. I left there and went to Ansar-Ud-Deen College. I left the school due to certain issues for Ijeshatedo Grammar School, Okota, where I completed my SSCE education before I left for Lagos State University. But the most interesting part of it which I've always been thanking my parents for concerning their efforts to make me achieve what I've become today is that at the same time when I was preparing to get my SSCE I was also going to Arabic School – Daarul-Dawah in Isolo here under Sheikh Mustapha Zuglool-Zunusi (May Almighty Allah bless his soul).
I was doing the two at the same time. It was as if I studied Arabic part-time because I only went on Saturdays and Sundays while I went to school from Monday to Friday. I finished both in 1998. That was when I passed out from secondary school and also completed my secondary education as far as Arabic is concerned. From there, I proceeded to Lagos State University (LASU) where I studied Islamic Studies. Alhamdulillah, that was how I started my journey because there is no how one can become the head of all Imams in a particular community without having deep knowledge of Islamic religion including  the Qur'an and Hadith.
Aside from your parents, what other factors encouraged you?
There was a particular time when one of our Ustaz (Arabic teachers) beat me in Arabic school with a cane and I sustained certain injuries. When I got home, I was expecting my mother to use that opportunity to discourage me from going to Arabic school but rather, she insisted I should continue.
Let me even add this, I was never pleased with people calling me 'Alfa' then. I didn't want anybody to know that I was going to Arabic school. Even in my school at Ijeshatedo, I will fight the person because I didn't want to be known as Alfa. I usually removed my cap when coming back from Arabic school though I might have my uniform on.
In fact, I wanted to study another course in LASU, not Arabic Studies, I wanted to study Accounting.
At what age or point did you develop interest in the course?
I developed  interest in Islamic Studies when I was given the course to study after several attempts to study Accounting and Insurance failed. When I started the course, I got an opportunity that someone was looking for an Arabic and Islamic Studies teacher and I didn't have anything doing that could fetch me money. Meanwhile, immediately I finished my Arabic education in 1998, the following year, 1999 I started teaching in Madrasah. I returned to the Madrasah where I had my Walimot'ul Quran and taught for two years.
My interest got higher when I started teaching because I was learning more as I was teaching others and at the same time earning income.  That was when it dawned on me that this was what Allah wanted me to do. I've worked as a motor boy in Apapa. If not for my parents, I would have become a trailer driver by now because I worked there for some months as a motor boy and my boss had taught me how to drive. Though I had not got admission while I was following trailers, my parents insisted that I should not continue. I moved to become a car wash boy and was earning something too. That was where I was able to buy my first television set and I was happy. But my mum would always remind me that that was not what she wanted for me. She was only giving me the little support because I wasn't stealing, flirting, fighting around and for me to support myself. She warned that I should have it in mind that that wasn't where I was going to. I couldn't think outside my parent because my growing up deeply revolved around them. It was during the process of studying Islamic Studies in school and teaching it to earn stipends that I developed much interest in it. By the time I finished my university education, I still didn't know what to do with it but God appeared to me in a certain way.
How sir?
I met someone who was the Deputy Imam in Airforce Base in Ikeja. He studied Islamic Studies at LASU as well. He introduced me to me what I could do with Islamic Studies and gave me hope that I could work anywhere. He said we could work as soldiers with our degree. Immediately, I told him I had interest in becoming a soldier. He said I shouldn't worry that after my NYSC service I should apply. He said that those that apply with Islamic Studies were very few meaning that the religious field (Islamic Studies) was not highly competitive unlike others be it in Airforce, Navy or Nigerian Army but I have a phobia for water that was why I settled for Airforce and I applied after my Youth Service programme in Kastina.
I later relocated to Ondo State. I applied and wrote the exam in Airforce Base in PWD and passed it. Until it was time to go to Kaduna, I didn't see my name and that turned me off. I felt disappointed because I had developed interest in it being an Imam in the military. After those events, I concluded in my mind that I must not do anything outside the line of Islamic religion because everything that has come my way is about Islam. I reflected on how I had come and the turn of events from childhood till higher institution. I decided to face Islamic studies and Alhamdulillah, this is where I am today.
How did you handle societal influence while growing up in Isolo cosmopolitan?
That is why I kept on mentioning my parents because they made me what I am today. I didn't have friends. When I was attending Andar-Ud-Deen College here, we closed around 2 pm. Anything past that 2pm, my parents would have sent someone to come and pick me. Can you imagine that close monitoring? How is it possible for me to keep friends?
My mum will never go anywhere except for certain parties that concern the family. She doesn't keep friends, so also my father.
How did your journey to becoming the Grand Chief Imam of isolo start?
Everything is based on praising Allah because It was Allah's doing. I told you that my mother was so influential in the society to the extent that she was always addressed as 'Apase' because she used to be one of the leaders of Grinding Machine Operators' Association. She was their leader and that was why she got that name but she didn't condone any nonsense. If she were to be alive, I will still conclude that I got the position due to her influence, credibility and integrity but she wasn't around even my dad and that's why I concluded that it was Allah's doing.
This was how it started, our past Imam, not the immediate past but Chief Imam Yahya Akanbi Erinfolami was our father. He spent 41 years as the Chief Imam. Before his death, when he was getting old, he selected some Islamic Scholars in Isolo, about seven of us. We were the ones delivering sermons in the mosque but he was the one that would lead the prayer. We had a roster. So, when he died it was so easy for the community to choose his successor because they were not going to choose outside the selected scholars but whom to chose was the problem. So, Alhamdulillah, during that time I was working as an Arabic teacher at Nigerian/Turkish International College, Ikeja and I was their Imam because it was when I got there that we started praying Jumat service.
During that time, the mosque committee said anyone of us who was interested in the position of Chief Imam should apply. Some people told our leaders that the application was a needless process, they should just choose who they thought was capable but they insisted on the formal process to know those that were interested. I wrote my application just as others. My qualification, work experience were used in my favour but due to certain issues, they chose the immediate past chief Imam, Alhaji Ahmad Olanrewaju Sadiq and I was asked to be his deputy. Everything moved smoothly until his death last year and automatically, as his deputy, I was asked to take over. I didn't lobby for it even after the demise of Chief Imam Erinfolami, I didn't lobby to succeed him.
There has been little controversy in Isolo over the 'Grand' Chief Imam. What has made the adjective so important?
Well, I'm still going to say Alhamdililahi. Isolo is a very big kingdom. Just as you've described it as a cosmopolitan city. Isolo is very wide even wider than what we think in the sense that if you make your research to know how Isolo came into existence you will realise that Isolo is very big. For instance, when you talk of Isolo you'll talk about Okota, meaning if there hadn't been Isolo there wouldn't have been Okota, ditto other areas in Isolo. Isolo is the head.
Meanwhile, the Chief Imam of Isolo is not the only one in Isolo, there are others too. All these communities have their own chief imams and conclusively we can say we have five chief imams in Isolo. Chief Imam of Isolo, Okota, Ilasamaja, Ishagatedo and Ajao Estate where we now have other imams. In fact, more than a hundred across every area in Isolo. But, among the five chief imams, Isolo is the head and that's where the word 'Grand Chief Imam' comes in, meaning the paramount head of all chief Imams and others in the community.
How will you describe the relationship between traditional worshippers and Muslims in isolo?
There has been a cordial relationship between the first religion in Isolo which is the traditional religion worshippers and Muslims. Let me briefly take you through how Islam came to being in Isolo that's where you will be convinced that there has been a cordial relationship. Though there has been a misunderstanding, since it didn't get to the extent that a third party interfered, we can't call it an issue. All leaders in Isolo belong to this traditional religion until one particular time when one man called Musa – Baba Musa Aregbe, one of our great grandfathers brought Islam.
This man was the one who brought Egungun Festival to Isolo as well as Islam. He was an indigene. No one has ever practised Islam in Isolo when he brought the religion. He just came up and said he wanted to renounce the religion they had been practising but his people had a disagreement with him over it to the extent that they told him to meet them at a particular place if he knew that he wanted to fight them. He got there before them and that got them terrified. He told them that since they didn't have the gut to face him, he drew a battle line and told them to cross it but they couldn't. He insisted on building his mosque where he was and that was the first mosque in Isolo – Oluwalotos'opefun Mosque. It is in Esa there.
At the end of the day, these people settled their disagreement because they were family members and they continued their lives. The Muslims were doing their own so also the traditionalists. In fact, part of these traditionalists were the ones that built our central mosque. They contributed financially to the project. Though it was gradually and some of them later converted to Islam completely. That's how we have been living together. We've been having a cordial relationship since then and we will sustain it.