Alaafin Adeyemi's Death: Makinde and the Myths of Mysticism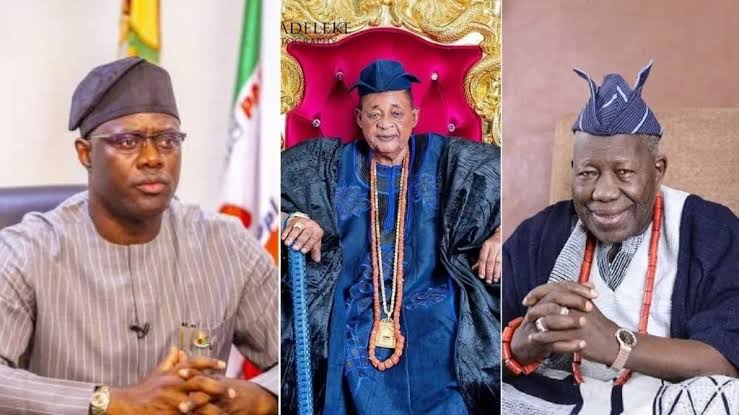 Morufu Smith
Nigerians woke up to the unexpected announcement of the death of the maverick monarch, Oba Lamidi Olayiwola Adeyemi III, at today's dawn. Nigeria has indeed, lost the most mercurial king Yoruba land has ever produced. Oba Lamidi Adeyemi was unarguably the most knowledgeable traditional ruler in Yoruba history, culture, custom and tradition.
The death of late Oba Adeyemi brings to four the deaths of prominent traditional rulers in Oyo State within a year. The first king to join his ancestors was the late Soun of Ogbomoso, Oba Oladunni Oyewumi Ajagungbade III who died on 12th December, 2021 at the ripe age of 95. Another death occurred some days later of the Asigangan of Igangan in Ibarapa zone of Oyo State, Oba Abdul-Azeez Adewuyi Aribiyan II. He died on the 20th December, 2021. As if death decided to seek a temporary abode in Oyo State, the gloom of the death of the late Olubadan of Ibadanland, Oba Saliu Adetunji Ogungunniso I overshadowed the joy and merriment of the new year as the monarch transited to the great beyond on 2nd January, 2022. The death, late last night, 22nd April, 2022, of Oba Lamidi Adeyemi brought the deaths of Oyo prominent kings to four.
With the fresh death of Oba Adeyemi, tongues have begun to wag from some quarters insinuating that Oyo State had recorded too many deaths within the 3-year reign of the Executive Governor of Oyo State, Engineer Seyi Makinde, and that such deaths had evil connotations. It would be recalled that Oyo State had lost two former governors during this running tenure of Governor Seyi Makinde. Senator Abiola Ajimobi died on 25th June, 2020 at the age of 70 while Otunba Christopher Alao-Akala died on 12th January, 2022 at the age of 71. It is however a ridiculous insinuation to ascribe any death, one, few or several, to the reign of any governor or president. Such thought defies logic and rational reasoning. People will always die when it is their ripen time to die regardless of who is governing a state or presiding over a country.
Have we forgotten the place of destiny in human lives? One recalls that late Governor Alao-Akala was alleged to possess evil power due to a walking stick he went about with. It was insinuated that he got the magic walking stick from Sat Guru Maharajji! Many people carried that fetishistic impression about Alao-Akala till he released his last breath when the truth of his humane nature was revealed and encomiums showered on his corpse unmindful of such crocodile encomiums.
Since it had been irreversibly appointed that the two prominent governors and the four traditional rulers would die within the periods mentioned, they would still have died even if it was Bayo Adelabu, not Seyi Makinde, or any other person, that was at the helms in the state. If Bayo Adelabu was the governor when Abiola Ajimobi, his political mentor, died, ridiculous rumours of Bayo Adelabu's culpability in his political mentor's death would have flown around and blown beyond proportion. We are that illogically superstitious!
Wasn't Otunba Christopher Alao-Akala painted with the same dark allegation when his political benefactor, late Chief Lamidi Adedibu, died after Alao-Akala assumed office as the governor of Oyo State in 2007? Rumours were spread in whispers that Alao-Akala engineered the death of Baba Adedibu so that he, Akala, would be free of Baba Adedibu's Oliver Twist control. What a presumptuous conclusion! As we speak, it's not doubtful that the remnants of the dastardly rumour still hangs in the air around the Molete home of the late strong man of Ibadan politics. Were Bayo Adelabu the governor of Oyo State when Abiola Ajimobi died, it is not beyond rumour hawkers to senselessly parrot that Bayo Adelabu must have engineered the death of his political mentor so he could be free of his control.
When state or national death(s) occurs, we should be sober beyond petty politics not to spread nasty narratives no matter who is in the saddle of governance. People die daily and how prominent the dead are determines the awareness of their deaths by the people. The deaths of the prominent Oyo citizens in recent times do not mean that Seyi Makinde's reign as the governor is evil. There's absolutely no fetishism that the governor could have done prior to his election that would have had negative impacts on ordinary or prominent citizens of the state. His reign isn't mystical. It's time for Oba Lamidi Adeyemi to die, same with other obas who joined their ancestors recently.
What we should continue to do as citizens is to keep praying to God to put a stop to deaths of ordinary or prominent citizens of the state till Governor Seyi Makinde will finish his tenure by May 2023.
May the prominent souls of the departed get what their Creator thinks is the best for each of them in their afterlives.