Bourdillon: gradual demystification of a political empire (Part I)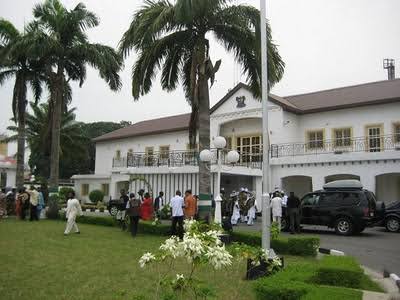 By Favour L. Favour
Despite attempts to play it down, yet discourse on the 2023 presidential ambition of the former Lagos State Governor, Bola Ahmed Tinubu continues to manifest like hydra-headed monster. We probably should not blame those who keep the discourse alive, no other person, other than the man himself, has consistently, made the discourse and rumours germane. The latest being his needless intervention in the just-concluded Edo State gubernatorial election.
Before elevating himself to the status of political godfather, Tinubu first served as Senator in the aborted third Republic and at the return of democracy in 1999, he emerged as Lagos State Governor and served till 2007. And for 21 years, covering his governorship period and his self-assigned kingmaker role, Tinubu has a vice-grip hold on Lagos State politics. As if that was not enough, he also elevated himself from the position of a godfather to an ersatz oracle who decided what happens in the state.
The former senator and Lagos State governor wielded so much influence that he singlehandedly installed three governors in quick succession: Babatunde Fashola, Akinwunmi Ambode and the imcubent Lagos State governor, Babajide Sanwo-Olu.
The "Lion of bourdillon" as he is famed by admirers, sequestrated Lagos State with so much confidence on his rack. The only time his beset was jiggled was in 2015 when PDP, sponsored by former President Goodluck Jonathan artfully battled him in an attempt to defeat his espoused Akinwunmi Ambode.
Instructively, in all of Tinubu's political battles, he never produced a video to commandeer Lagosians to vote. The only time something close to that happened was in 2015, when he would rather use Oba Rilwanu Akiolu as a proxy, to send strong message to the Igbos who were bent on voting the opposition. The Oba of Lagos had threatened to spiritually banish the Igbos to the lagoon if they vote the PDP flagbearer in the gubernatorial election. It was in the height of fear that Tinubu was about losing his grip on Lagos and the Oba's threat had to be delivered in the most fear-mongering approach, to whip Igbos, whose bulk votes were perceived as "threats", into line.
Until the unraveling of his presidential ambition of late, both his supporters and many in opposition, considered Tinubu as strategic, smart and always know what do. It is however critical to gauge his recent fouls and particularly the Edo election political miscalculation. Ordinarily, Tinubu of old would not have made an open comment on Edo election, irrespective of the pressure. Even in instances where he had failed to install his stooges, like in Kogi State where he could not install James Faleke as the Deputy Governor cum Governor and Segun Abraham as Governor in Ondo State, Tinubu had always remained behind the scene to pull strings.
However, a careful observation of his video and the message addressed to the Edo people revealed the other side of Tinubu many have never paid attention to. For the first time in public, Tinubu looked so unreal, shivering and lacking confidence. One may reckon that the leader was coerced to publicly declare his support to show where he truly belongs. His look and language in the video of course surmised that his hands may be tied.
Another valid point to consider is that Oshiomole and Tinubu had teamed up in the past to outplay different candidates who were seeking their support in previous elections. Even though that is politics, it is not out of place to think that Oshiomole may have incited Edo APC caucus to demand an open support from Tinubu just to be sure of his loyalty. And in response, Tinubu considering how helpful Oshiomole had been to him, especially in cutting the second term ambition of his political godson, Akinwunmi Ambode, to size, might have also shot the video to sustain Oshiomole's support for his 2023 presidential ambition.
As it turned out however, the video became the most offensive foul play ever committed by the APC National Leader. It was dropped in the midst of Edo people who were already confused on whom to choose between their old monster and the new devil. The video appeared to have aggravated their anger towards Oshiomole's overbearing godfatherism and the suspected attempt to tie them to the apron-strings of the Lagos State godfather. Thus, the mantra, "Edo nor be Lagos" which was being parroted by a few, instantly gained fame and became the watchword for many Edolites.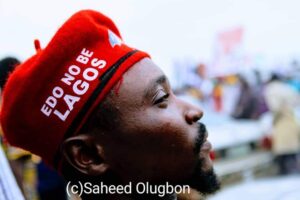 True to their words, Edo people unlike Lagos voters did not hesitate to serve the two godfathers red cards without checking INEC VAR which would have revealed Tinubu's harmless intent to prove his loyalty.
When the former Lagos State governor, Babatunde Fashola said, "may our loyalty never be tested", not many people understood the message. Asiwaju Bola Ahmed Tinubu has failed in his bid to prove his loyalty to a caucus in APC. True or false, whatever reason he has for playing the loose shot that scored them an own goal in Edo election, it will go down in the history as his first 2023 presidential election casualty. That is if Lagos elites did not come up with "Lagos is wise" mantra in response to "Edo nor be Lagos" musical tune, that may finally retire him from Lagos politics. Only time will tell.