COVID-19: WHO Director-General in isolation after contact tests positive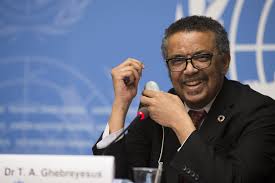 By Emmanuel Awosika
The Director-General of the World Health Organization, Tedros Ghebreyesus, announced on Sunday that he was self-isolating after someone he had contacted tested positive for Covid-19.
He stressed that he had not displayed any symptoms and would be carrying out his duties from home in compliance with WHO guidelines.
Tedros tweeted: "I have been identified as a contact of someone who has tested positive for #COVID19.
"I am well and without symptoms but will self-quarantine over the coming days, in line with @WHO protocols, and work from home."
The former Ethiopian Minister of Health has overseen the WHO's efforts at curbing the spread of Covid-19 which has claimed more than a million lives since it started spreading this year.
He has received criticism from United States President, Donald Trump, who accused the WHO of being a "puppet of China" and threatened to pull the US out of the organization.