Daddy Freeze Replies Pastor Ibiyeomie, Says Cleric Responsible If Anything Happens To Him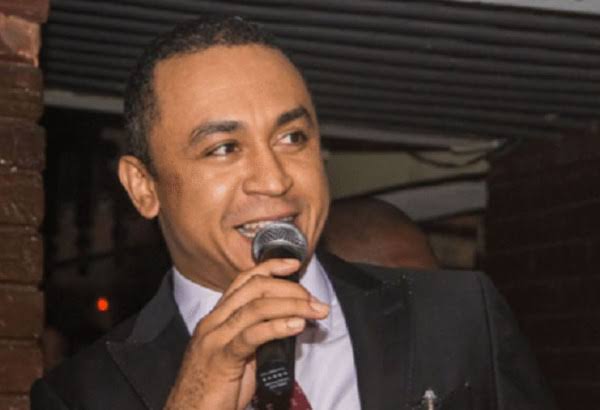 By Emmanuel Awosika
Ace Nigerian broadcaster, Ifedayo Olarinde a.k.a. Daddy Freeze, has asked the public and police to hold Pastor Ibiyeomie of Salvation Ministries responsible if his life is harmed.
Daddy Freeze, founder of Free The Sheeple Movement, said this while reacting to the cleric's threat to kill and "tear him to pieces".
Ibiyeomie had in a sermon on Sunday cursed Daddy Freeze and threatened to kill him for insulting his mentor and father-in-the-Lord, Bishop David Oyedepo, founder of Winners Chapel International.
He said, "I will never be alive and see anyone insult my father, you are not born, I will kill you, I will tear you into pieces. Insult me I wouldn't talk but insulting Oyedepo, I can't be alive and you insult my father.
"The day Daddy Freeze insults Oyedepo, I will deal with him and arrest him. Who gave birth to you? Do you have a father? Show us his picture."
Pastor Ibiyeomie had also threatened to have Daddy Freeze whom he called a "half-caste, Somalian bastard" arrested and charged.
However, Daddy Freeze in a video posted on Instagram page denied Ibiyeomie's allegation that he insulted Bishop Oyedepo.
According to him, he had only corrected the cleric for his wrong interpretation of Ephesians Chapter 5.
"I didn't insult Bishop Oyedepo. He quoted from Ephesians 5 verse 22 and I drew his attention to verse 21. Correcting someone scripturally is not an insult. Christ was criticised, Paul was criticised, Peter was criticised and even the Pharisees were criticised. So, there is no way you will preach a message from the scriptures that you will not get criticism. It is impossible," Daddy Freeze said.
He also called on the public to question to hold Pastor Ibiyeomie if anything happened to him, saying; "If anything happens to me, I'm speaking to the police, the public, and the world at large, should anything whatsoever happen to me, I want you to know who to hold responsible."