Don't truncate Lagos development, Adedeji tells Lagosians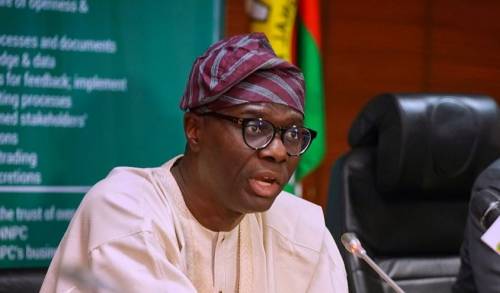 …urges them to vote Sanwo-Olu agai
By Ibrahim Adeleke
Basking in the developments being witnessed in Lagos State under the administration of Governor Babajide Sanwo-Olu, the former chairman of Kosofe Local Government, Bar. Ademuyiwa Adedeji, has urged the Lagos residents to care not to cut short the developments ongoing in the state by voting for amy other party.
He appealed to then to allow the governor to continue his work on order to sustain and witness more progress in term of human and state development.
He made the appeal while speaking to journalists at Mende, Maryland, yesterday.
According to him, there is a master plan which make it easy for successive All Progressives Congress (APC) governors in Lagos record significant achievements.
Adedeji said other candidates from any other party do not have the master plan and may put Lagos into regression if given the power.
He noted that since he assume office as the governor of the state, Sanwo-Olu has also embarked on so many projects to further develop the state, mentioning some he has completed and sone others yet to be completed.
"If we don't allow him to come back, so many developmental projects in Lagos State will suffer and therr will be backwardness in the progress the state has been witnessing so far. No other party or candidate fron other parties for now understand the secret behind the progress of the State except APC and its candidates.
"I am not soliciting for Sanwo-Olu because I am a politician, no, I am not a politician because I have been out of politics since I completed my tenure as Kosofe LG chairman in 2007; but as a Lagosian, I know what and who we really need in government for now. We citizens have discuss with Sanwo-Olu on what Lagos residents need now and he has promised to do them especially for the youths. The youths in their different professions will have access to empowerment programmes and funds I can assure you of that dito the women, and the elderly ones. And these will not stop the general infrastructure development in each community across the state."
The former council boss noted that during his first tenure, Sanwo-Olu made sure every community got at least a big project from the state government, promising that he would do more for individual as well as generality of the people in the state.
Referring to Sanwo-Olu's achievements so far, he mentioned the over 300 road projects he completed and commissioned, the new transportation systems both land and water tagged Lagride and Lagferry with construction of new jetties, upgrading of 970 public primary and secondary schools axross the state, the MSME programmes, commissioning of 16 Housing projects in 3 years and others.
He emphasised the need for the Lagosians to keep the chain of development in the state by voting in APC candidates during the coming gubernatorial and state assembly elections.