Why I want to be Lagos APC Chairman -Fouad Oki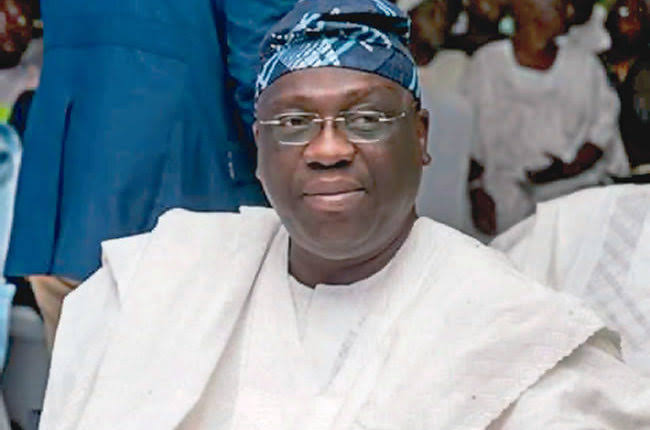 By Dayo Badmus, 
A member of the All Progressives Congress, APC, in Lagos, Fouad Oki is explaining why he is joining the race for the leadership of the Party in the State.
Oki made this known in a message contained in a statement made available to Newsmen this week.
According to him, the unity of the party is paramount to him.
Fouad Oki appealed to APC members in Lagos to join hands with him for the party to have a fresh start.
He said, having carefully analysed the situation in the party, he has come to the conclusion that, people of like minds must come together and he as a team player is ready to lead in that direction with the goal of ensuring a resounding success for the party as the general elections draw closer.
…….The Release (unedited)
Declaration of Intention to Contest for State Chairman of Lagos State APC
LET'S HAVE A FRESH START… LET US REKINDLE HOPE AGAIN!
Distinguished leaders and members of our Party, the All Progressives Congress, fellow compatriots. I bring forth good tidings and come in peace.
After a very deep introspection and a sense of commitment, I hereby formally indicate my interest to contest for the position of State Chairman of our great party, the All Progressives Congress (APC) at the State Congress slated for October 2, 2021. My decision to contest this election is borne after careful analyses of the challenges confronting our Party and on the strength of clear understanding of my personal ability to provide the needed leadership in our collective search for solutions.
My decision to contest the position was influenced by my experience as a team player and a unifier as well as a loyal party man who desires the best for our Party, the APC. Today, our Party at the State level had gotten to a cross-road where experienced people in political administration were needed to mend the divisions being created by the inexperienced leadership that currently permeate our political landscape.
My main priority is to see the party bond in unity, preparatory to the next general election, there is a party to work for, therefore, we need to come together as one solid family to secure a resounding victory in 2023. I will lead the party with truth and integrity. I call on all of you delegates to this very important but crucial State Congress to throw your weight behind me, so that together we can rekindle the hope of our members again. I will be there for all APC members especially the grass roots because I am one of you.
Today, there are grave challenges and pressures facing the Party, members morale has plummeted. Part of the questions we also failed to ask and provide answers to was why our core supporters became unhappy with our Party. The pattern of votes in the last two general elections reflected not only who people elected to represent them, it more importantly showed the Party who people 'refused' to vote into power again albeit reluctantly. Of course, we all know how it has been very difficult and almost impossible to win in a State where our traditional voters and supporters abound.
What went wrong? Various reasons have been given about how we got to where we are. Chief of these are indiscipline and impunity, lack of internal democracy, imposition of candidates as well as dangerous introduction of ticket racketeering to unpopular candidates. A party which Lagosians expect to be governed by ethos and administered by internal conflict management mechanism based on equity, fairness, transparency and democracy became hostage to impunity and disregard to law and process. Today we bear the scar and wounds from the breakdown in party discipline and order.
Over the past few months, we have seen an increasing anxiety and resentment by Party members over the mis-handling of the Local Government election and the last two Congresses. It is clear that there is no 'quick fix' to the challenges posed by these events but there are actions that we can take now to begin the journey to save our Party to redeem itself and win the trust of voters again.
We do not have the luxury of another 12 months before we see progress on the ground. Promises are not enough. Verbal commitments will not save us from the wrath of voters if we do not start afresh to convince the people that we indeed are ready to change our ways and means to meet the yearning of the populace. With an election looming around the corner, the need to elect honest and dedicated executive who could deliver is so compelling and highly imperative. This is not the time to start passing the buck; enough of the blame games. It is time to move on, up and forward. It is time to start afresh! I believe we can take our Party there together.
When our Party, the APC was founded in 2013, it was founded on some noble ideals. As the manifesto of the party clearly states, the mission of the APC is "to construct a progressive state anchored on social democracy, where the welfare and security of the citizenry are paramount." This guiding principle have been eroded by the way our Party is being manage today.
My dear Party leaders and fellow compatriots, the need for a more focused, disciplined and reinvigorated Party transcends a desire to merely hold office, rather it is a clarion call to provide a political stage that offers distinctive leadership our members so much desire. A platform whose ideology is based on collective governance, all round inclusive leadership, cohesion, synergy unity and economic development.
Doing otherwise as being witness presently will be sending our dear State to eternal political condemnation, neo- dictatorship and totalitarianism. This will not only make mockery of the sacrifices of men and women who paid the ultimate price so our Party can triumph at elections but equally erode the collective determination and vision of a more prosperous Lagos State.
If and when elected as State Chairman of the party, I will lead a renaissance effort that will reposition and re-organize the party based on its philosophy of social democracy which basically means people-oriented, membership driven and mass based political organization.
To be able to translate these into concrete action that is visible and verifiable. Under my leadership, we will do a couple of things differently, in the day-to-day management of the party, while interfacing with all those elected on the platform of the party at all levels, particularly the legislators. How do I feel I can do it?
I think I am most eminently qualified to correct some of our mistakes of the near and remote past having served in many capacities in Party administration. My last assignment being Southwest Coordinator for the 2019 Buhari-Osibanjo Presidential campaign and election championing the grassroots mobilization among others for five months traversing the length and breadth of the Southwest geo-political zone day and night sacrificing everything for the Party.
Having supervised and won several elections under the AC, ACN and APC platforms. I have conducted and managed not only governorship elections, but also local government elections with all their attendant complexities, I was Director General of four governorship campaign efforts back-to-back apart from my involvement in election activities in at least six other State where results from those effort were victories for our Party. I have built a network of personal relationships across the length and breadth of our Country; these networks are expected to come handy in the process of healing wounds and building bonds and synergies necessary in rebuilding and refloating our Party in Lagos State. I stand as a bridge in between the old and young generations of our Party members. We must harness the abundant energies of our youth and gain from the timeless wisdom of our elders. Our Party need a Chairman that can lead the party to meet the needs, aspirations and yearnings of young members. This, I have all it takes to do so.
As a social scientist, I have learnt over the years, both in the course of training and years of practice that whenever there is a near system collapse, we need to reinvent the wheels; in such a time, we need to pause and go back to default settings, we need to refresh, recreate and regenerate. And as a social worker and administrator and a member of very prestigious professional associations both in Nigeria and overseas, I am equally qualified in the social engineering of default setting and the strength of character to do what has to be done.
A Fresh beginning is Possible!!!
Because there are things that really should make us tremble – rootlessness and alienation among some of our youths, lack of opportunities and the downward spin into chaos and violence of large parts of the poorer communities have made them so restive. I have the solution to turn things around if given the support by you distinguished leaders. And these simply don't lend themselves to defensive and short-term solutions. I hope that the following may stimulate some thinking that will help to address such issues:
First: What practical initiatives can be taken to halt and reverse our collective lack of internal democracy and cohesion? What real support is available for the vulnerable members amongst us and the various communities in our dear State? Something like the 'Contraction and Convergence' approach, under which pro-poor programmes and project can be ploughed back into sustainable development for low-income and vulnerable individuals in our communities by our own governments for the benefit of all. And, prosaically, nearer home, what level of commitment is there to an enforceable code of service delivery for our government?
Second: The challenge right now, is not to lament the clear abuse of power that led to the destruction of the spirit of unity and inclusiveness among members, but to commit the incoming leadership to rebuild the camaraderie again to earn the trust and respect of our teeming supporters and put it to practical use in the shortest possible time. It will also create a credible platform for conducting direct primaries which will afford every member of the party to participate in the party primaries at all levels rather than the current situation of selection and imposition which is susceptible to manipulation, abuse and corruption by desperate aspirants at all levels.
I will ensure that members of the party are given a robust sense of ownership and control. This would enable the party to adopt a policy of bottom-up, as opposed to top-down approach to party administration process. The beauty of this is that members of our party will own the party and will be ready to work to ensure the success of the party at all levels and at all times.
Third: I will determinedly strive as much as humanly possible to promote internal democracy within the party. Therefore, the Party must be seen to operate on the basis of its rules which is the party Constitution and other laws of the Federation, as they relate to the formation and administration of political parties. Indeed, the Constitution of the party is the basis of the contract between the party members. Thus, these documents shall be held sacrosanct as a pre-condition for sustainable internal party democracy.
Our Party was founded on the values of social democracy, we must be seen to play politics of inclusion which encourages debates, contestations and consensus on policy choices. Under my leadership, we will give effect to article 12.9 of the APC's Constitution which provides that "There shall be for each State Chapter of the Party, a State Caucus…." Also, article 12.14 and 12.17 shall also be given immediate effect as part of the strategy. In addition, we shall organize annual platforms to review not only the activities of the party but even of governments elected on the platform of the party at all levels in the State. Similarly, other organs of the party including those at the local government, Ward and polling Unit levels will be encouraged to meet as stipulated by the Constitution. In this way, there will be a bottom-up approach to internal democracy within the party from unit to ward to local government to levels. These meetings will be dedicated to issues of party management, mobilization and policy debates, service delivery by our governments, to discuss about development, governance and policy issues. When the head is right and the direction is clear, every other person will behave responsibly and appropriately.
Also, we will organize activities at regular intervals across the senatorial districts where issues and challenges facing the polity, economy and society will be discussed by party leadership, elected and appointed officials, and members.
Fourth: The overall objective will be to create platforms for setting development agenda that will focus on the issues that affect the people of our dear State on the front burner. In my view, the absence of such credible and organized platforms to interrogate and debate matters of State has created a void between the Party, our governments and the People which we are elected to serve. The party should, therefore, serve as a veritable platform to keep both the executive and the legislative arms of government to remain faithful and focused on delivering the deliverables for the good of the people and their welfare.
"It is common for people, particularly the party leaders to evoke the concept of party supremacy when dealing with party matters. For me, party supremacy flows from the implementation of decisions democratically debated and consensus reached at the appropriate and relevant organs of the party. To talk of party supremacy presupposes those decisions are taken on the basis of healthy contestations and debates. For us, party supremacy comes from decisions of the party made by the relevant party organs. The decisions of the party have to emerge from the debate by party organs at various levels, and the conclusions reached will constitute the party's position on any matter which will then be binding on all the members of the party including those elected as executive and legislative arms of government.
It must be emphasized at this point, that the opinion of the party chairman or any leader of the party, does not constitute the party position. A party position must as a necessity be the outcome of debates, disagreements and consensus when unanimity is impossible. It is when a party decision are the result of debates, contestations and eventual agreement or consensus that the principle of party supremacy becomes potent and operational. To promote party supremacy and party unity on a sustainable basis, the party must ensure discipline within its ranks and evoke sanctions where appropriate. For us, rules and policies are useful to the extent that they are enforced. To sustain party unity, there must be party discipline. Once a party position is taken, anyone who goes against the party position will be subjected to party discipline in line with the party Constitution following due process. Without sanction for misconduct and commendation for proper conduct, there cannot be party discipline."
Our Party constitution has already provided for the funding of the party. Article 22 provides that the party shall be funded by subscription, fees, and levies of members; proceeds from investments; donations, etc. We will vigorously pursue all of these avenues. My dear fellow party members, my commitment when elected is to provide leadership that will be friendly, fair, firm, just, faithful, transparent, and loyal to the members of the party and its ideals.
As we head for the State Congress, this letter is a plea to you to support me and give me your vote. I promise never to take this priviledge for granted, while I welcome other contestants to also ventilate their aspiration publicly and not count on the usual tradition of being foisted on the Party. Finally, I share in HRM Sanusi Lamido Sanusi's belief that: "It is not always easy to have a leader who has both integrity and capacity to govern – two important qualities of a leader…." This is what I offer!
Our Prayer for this project shall be: O God of creation, Direct our noble cause; Guide our Leaders right: Help our Youth the truth to know, In love and honesty to grow, And living just and true, Great lofty heights attain, To build a nation where peace and justice reign.
God bless the All Progressives Congress, Nigeria!
God bless Federal Republic of Nigeria!!
God bless Lagos State!!!
Warm Regards, Fouad Alade Oki
Ogboni Fouad Alade Oki