Police arrests fake Oluwo in Abeokuta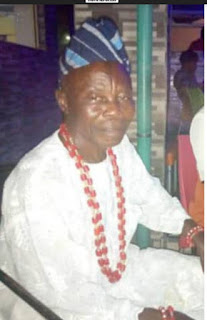 By Dayo Badmus,
The Ogun State Police, Ibara Division has arrested Mr. Mukaila Akinwande who have been parading himself as the Oluwo of Ijejaland in Abeokuta, the Ogun State capital.
Mr. Mukaila Akinwande was arrested in the early hours of Friday at his house around Ijeja in Abeokuta sequel to the violation of court order issued at Isabo High Court asking him to stop parading himself as the Oluwo of Ijejaland.
Justice Ogunfowora had earlier ruled on a motion filed by Chief Àrèmú Bangboye, the authentic Oluwo of Ijejaland, who is the complainant seeking an injustice, restraining Mukaila Akinwande from parading himself as the Oluwo of Ijejaland.
It was further gathered that as soon as the court issued the order, Mukaila Akinwande was said to have removed the ​​photograph in front of his house, but it was not long before he returned the photographs.
"We have since heard that people have started warning him to stop using things that could identify him as Oluwo of Ijejaland.
"We also learned that Mukaila's Red KIA Jeep was attached with a plate number with the Oluwo of Ijejaland inscription, a source said
However, things went bad for Mukaila when he was finally picked up by Police for going against the court order.
He has since been released on administrative bail, with an undertaking that he would desist from parading himself as the Oluwo of Ijejaland until the final court ruling