Rename Oke-Afa mini stadium after Jakande, youths tell Sanwo-Olu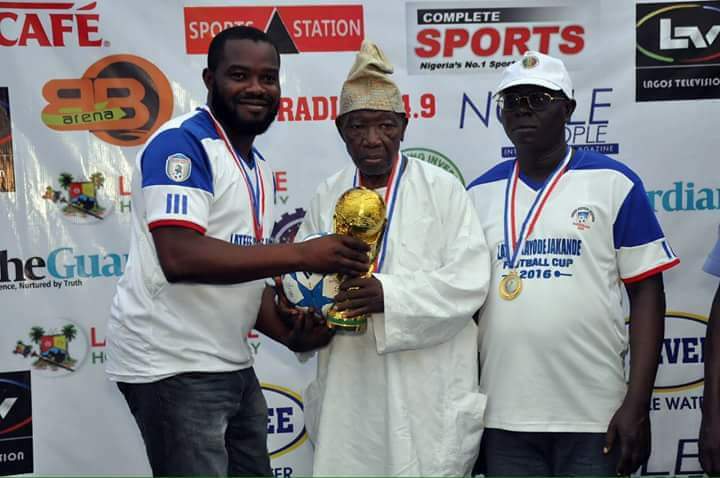 By Rasaq Adebayo
The youths from the various Jakande Estates in Lagos State have appealed to the Lagos State Governor, Mr. Babajide Sanwo-Olu to remodel the Oke-Afa field into a Mini Sports Complex and rename it after the late former governor of the state, Alhaji Lateef Jakande.
They pointed out that the football field is the most visited by the late former governor  and his wife while attending the finals of the Jakande Football championship annually organised by Lion King Promotions in collaboration with LBIC and the Estates Associations.
Speaking with LagosStreetJournal, the Chairman, Management Committee, Jakande Estates Football Championship, Ahmed Shekoni, noted that the field is the biggest in the immediate community, recalling that the late governor had, in 2016, promised to ensure that the Sports Complex was developed.
Shekoni promised that the championship would continue as it has been endorsed by Lagos State Football Association and has become one of the most important championships on the FA's Calendar.
He said it was organised to honour Alhaji Lateef Jakande when he was alive, adding that it would continue to be organised in his honour even in death.
"We commiserate with the entire family of the late sage whose impact we all feel. We are appealing to the state government to honour baba by rebuilding and renaming Oke-Afa field after baba.
"When he was alive, we always organised the championship in his honour. We had the finals at Oke-Afa field here. We shall continue organising the championship in his honour."
Shekoni also appealed to the governments both at the state and local levels and other wealthy individuals to support them to be able to organise befitting football championship for the late governor.