Agents kick as Lagos KAI operatives allegedly illegally seals off MTN branded kiosk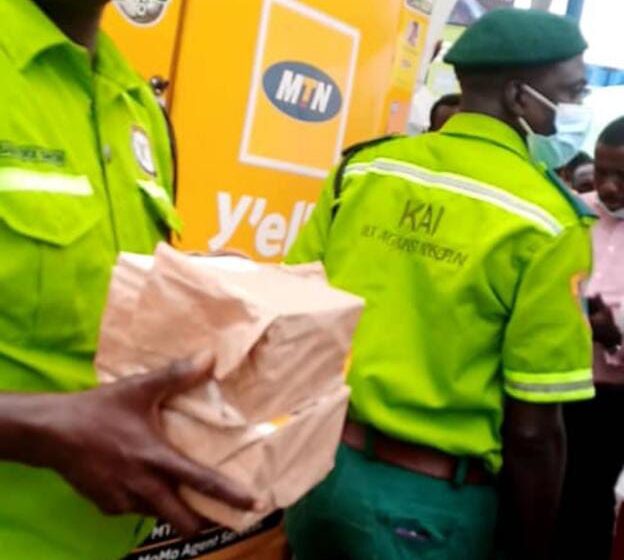 By Joseph Ayinde
MTN agents and officials have kicked against the activities of KAI operatives, urging state government to restructure the agency.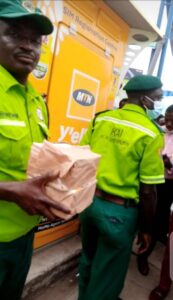 There was near mayhem on Medical Road, Ikeja Lagos on Tuesday as the Kick Against Indiscipline (KAI) Operatives of the Lagos State Environmental Sanitation Corps (LAGESC) allegedly sealed an MTN branded kiosk.
The Operatives were asking for KAI permit.
However, it was gathered that telecommunications has duly paid for the branded kiosks located across the state.
As gathered by Lagos Street Journal, the telecommunications company has paid millions of naira to the Lagos State Signage & Advertisement Agency (LASAA) as permit charges for MTN branded kiosks located across the state.
One of the MTN officials said the activities of KAI operatives may jeopardize the company's effort towards poverty alleviation and youth empowerment.
He noted that the kiosks were given freely to the residents to the agents to sell sims and recharge cards as the company's contribution to job provision.
The official, who spoke on anonymity, said the state government needs to check and caution the agency.
The official said: "With the seizure of the MTN products and sealing of the kiosks, the existence of those poor agents have been put to jeopardy and the image of the Lagos State government dented in the process."
The official added: "What KAI is demanding from MTN amounts to double taxation that the government of Governor Babajide Sanwo-Olu seriously needs to quickly address."
Other residents of Lagos called on the state governor, Babajide Sanwo-Olu, to call the agency to order, saying the it has been trespassing and infringing on the right of the people and investors in the state.
At the scene of the incident, KAI operatives were seen harassing agents of MTN on Medical Road, Ikeja by demanding, without reasonable basis for KAI permit for the deployed branded kiosks to the chagrin of passers-by.
Onlookers said the KAI operatives should not be allowed to frustrate people's investments in the state.
They emphasised the need to caution the agency to restrict its operations to the objectives specified in its enabling law.
"The irascible activities of LAGESC and its operatives more commonly called Kick Against Indiscipline (KAI) are becoming an embarrassment to the Lagos state government and something has to be done to curb the excesses of the agency before it becomes a serious impediment to investments buildup in the state," one of the onlookers commented.
All efforts to speak to the Head of KAI Operatives,  Mrs Gbemisola Akinpelu proved abortive as she did not answer calls put across to her.