Football icon Maradona laid to rest in Buenos Aires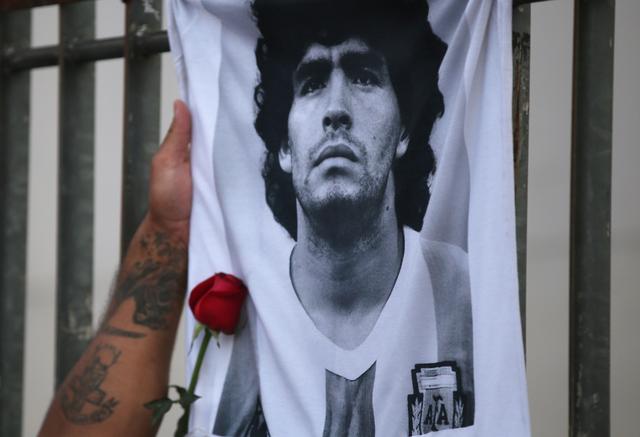 By Emmanuel Awosika
Football legend Diego Maradona was on Friday buried in a private ceremony in Buenos Aires, Argentina.
The ceremony held at the Bella Vista cemetery and had in attendance a small number of relatives and friends of the deceased.
Earlier, fans had filled the streets of Buenos Aires to catch a glimpse of the late footballer's body as it departed the Casa Rosada, Argentina's presidential palace, where he lay in state for public viewing after his death on Wednesday
Pictures from the Presidential Palace showed crowds of people surrounding the area as the dark-coloured hearse emerged.
People thronged the streets as the hearse navigated the city's crowded roadways. Many threw pieces of paper from their apartments as the hearse to represent the confetti welcome teams receive when they enter a stadium.
Crowds of fans had gathered at the Presidential Palace in Buenos Aires on Thursday after the doors were opened for the public to view Maradona's body.
Maradona died on Wednesday from a heart failure, CNN en Español reported based on information from a source present at the autopsy.
He had undergone an emergency operation for subdural hematoma, more commonly known as a blood clot on the brain, earlier this month.
Argentine President Alberto Fernandez has declared a three-day national mourning for the late Maradona, who led the country to a World Cup title in 1986.