Gunmen Attack Imo Police Command, Prison, Free Over 1500 inmates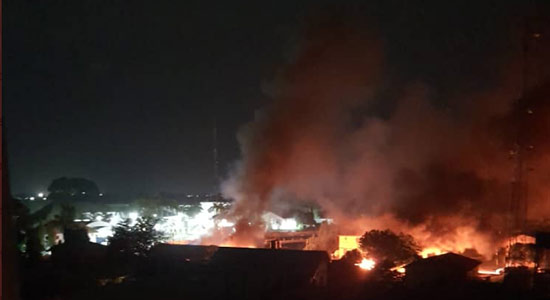 By Joseph Ayinde
No fewer than 1,500 inmates escaped on Monday morning in Owerri, the Imo State capital when suspected hoodlums attacked the Correctional Facility near the State Government House.
The hoodlums also attacked the Imo State Police command headquarters where they freed another 600 suspects in custody.
The hoodlums further freed the suspects in almost all the cells at the State Criminal Investigation Department of the command.
The gunmen operated from 1 am till 3 am on Monday.
They sang solidarity songs at the Government House Roundabout for about 30 minutes before attacking the facilities, a security source confided in our correspondent.
On breaking into the prison facility with the aid of explosives and dynamite, the attackers told the inmates to go home.
After releasing the detainees, it was learnt, the hoodlums also bombed the building, setting dozens of vehicles within the Police Command ablaze.
After they operated unchallenged, it was further learnt the hoodlums moved over to the Owerri Correctional Centre, which they forced open with dynamites, freeing over 2000 prisoners.
A source told our correspondent "Out of the more than 2,000 prisoners we have here, only eleven refused to run away with others.
"I want to tell you that since I was born, I have never seen nor heard these kind gunshots that I heard early this morning.
"Our happiness here is that there is no casualty. Those who have gunshot wounds are receiving treatments in the hospital.''
When contacted, the police spokesperson in the state, Orlando Ikeokwu, confirmed the attacks.
He, however, assured the people of the state that the security agencies were on top of the matter.