Igbo Quran: Controversy as former Deeper Life Pastor completes translation of Muslim Holy Book to Igbo Language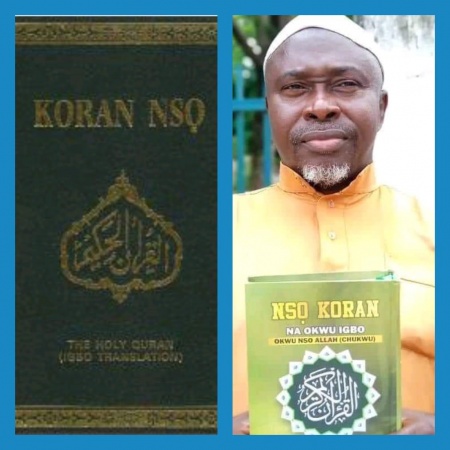 By Dayo Badmus, 
A translation of the Holy Qur'an into the Igbo language has been published in Nigeria.
The translation was done by Sheikh Muhammad Murtala Chukwuemeka, a former Deeper Life Pastor who converted to Islam in 1989.
The translated Qur'an titled "Nso Koran" was launched at the Ansar-Ud-Deen Mosque, Abuja, the Federal Capital Territory, where Chukwuemeka told the BBC it took him five years to translate the sacred Islamic text into Igbo from Arabic.
While the news was gaining rounds with commendation from social media circles, it emerged that there could be a dispute on who actually owns the right to lay claim of being the first translator of the Holy Qur'an into Igbo language.
Following the launch
on Friday, July 1, 2022, publisher of Daily Nigerian, Jaafar Jaafar, had reported that the credit for the first Qur'an to be translated into Igbo language in 1984 goes to Professor Jumbo Ugoji.
According to him,
"His daughter, Ngozi Ugoji, drew my attention to this fact, saying Sheikh Chukwuemeka's claims were wrong. She shared with me the cover and some pages of the Qur'an," Jaafar posted on his Facebook wall.
The development triggered more reactions from commentators.
Meanwhile, multiple reports confirmed that, the first translation of the Qur'an into the Igbo language was by Professor Jumbo Ugoji and published in 1988 by Islam International Publications Limited.
The translated Qur'an which was 919 pages was sponsored by Ahmadiyya Movement.
Ahmadiyya is known to have also sponsored similar translations in other Nigerian languages especially Yoruba (1957), Igbo (1988) and Hausa (1992), coming after Sheikh Gumi's translation of 1979.
This is besides the over 72 languages worldwide in which it has sponsored the Qur'an's translations.
Meanwhile, the latest Qur'an translation which was unveiled last week Friday was done by Sheikh Chukwuemeka, a former Deeper Life pastor who converted to Islam in 1989.
Chukwuemeka's translation was from the Arabic language.