LASG gives in to pressure, suspends enforcement of one-way on Cele-Iyana-Isolo-DHL axis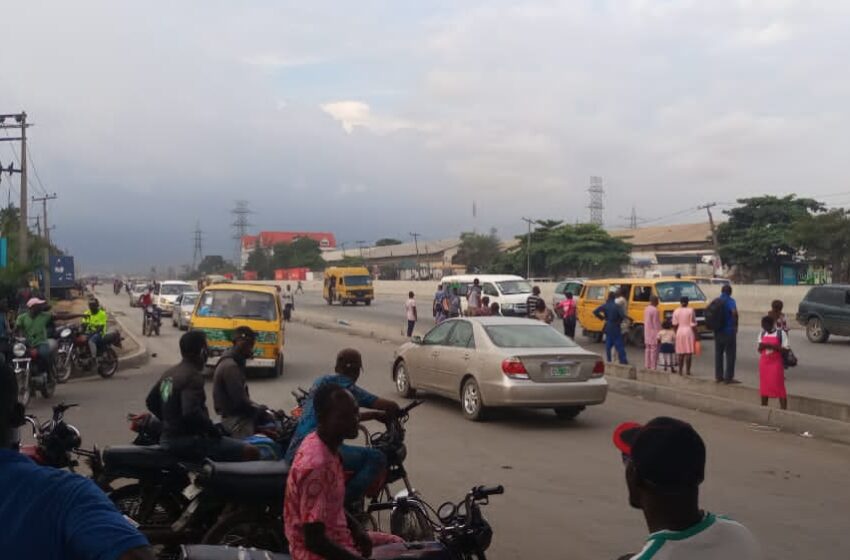 By Rasaq Adebayo
Giving in to the complaints and passionate appeal of motorists and Isolo Local Council Development Area (LCDA), the general manager of Lagos State Traffic Management Authority, Bolaji Oreagba, has ordered the suspension of one-way enforcement on Apapa-Oshodi service lane from Cele to Apakun Bridge.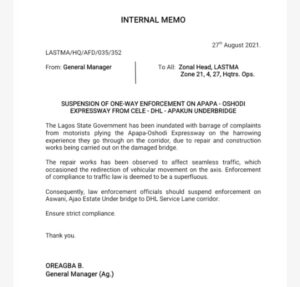 The development was made known in an internal memo titled "Suspension of one-way enforcement on Apapa-Oshodi Expressway from Cele-DHL-Apakun Underbridge" dated Thursday, August 27, to all zonal heads of zone 4, 21, 27, Headquarters and Operations.
In the memo obtained by Lagos Street Journal, Oreagba explained that the state government was overwhelmed by complaints from motorists plying the area especially due to the stress they incur as caused by the ongoing work on the damaged bridge which has affected the seamless flow of traffic.
He explained that enforcement of one-way driving on the service lane is deemed needless as he ordered the officials to suspend the exercise on Aswani, Ajao Estate under bridge to DHL corridor.
He urged the officials to ensure strict compliance with the directive.
The actual enforcement was unofficially communicated to motorists and other road users last Tuesday with many road users expressing shock and inconvenience.
The chairman of Isolo LCDA, Otunba Adebayo Olasoju had on Wednesday, last week held a meeting with top officials of LASTMA Zone 27.
The chairman, in a media statement, explained that in addition to the meeting, other concerned government agencies would be reached for possible reversal of the one-way enforcement.
Yesterday, during the conversation in a WhatsApp group, the chairman responded to a post regarding the development saying: "Yes, we wrote to them and they have listened"