LASUSTECH VC, Odusanya discloses strategic plan for institution's devt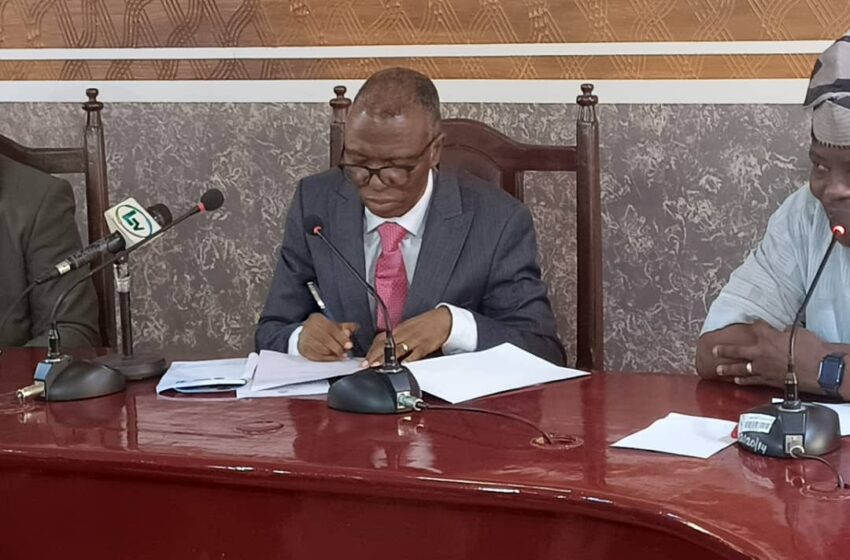 …as varsity admits 1,850 pioneer students
By Ibrahim Adeleke
The Vice Chancellor of the the Lagos State University of Science and Technology (LASUSTECH), Professor Olumuyiwa Odusanya, has enumerated a six-point strategic plan by his administration geared towards the development of the institution within his five years single term.
Odusanya disclosed this during a press conference held yesterday at the school board room.
The strategic initiatives according to him, are summed up with the acronym IMPACT, which are infrastructural development across the three campuses, which is to be funded through government, private support, IGR, endowments and philanthropy.
He explained, the The six strategic areas are: "I – Infrastructural development across our three campuses. The initial focus is in completing ongoing projects. Thereafter focus on development of lecture halls, workshops,  laboratories, state of the art equipment, all geared to make teaching and learning conducive. These will be funded through a plethora of means; government, private owned, IGR, endowments and philanthropy.
"M- Manpower development adequate attention would be paid to training and retraining development of the human resource of our University. Both in-house and external trainings will be conducted both locally and internationally. Our Staff will continue to be friendly, courteous, supportive, innovative and goal oriented. Excellence would be the benchmark in all our engagements.
"P- Prosperity and property of both staff and students. Our curriculum will be aimed to produce fit for purpose graduate. We are keying into the NUC standard called (CCMAS); Core Curriculum Minimum Academic Standards. We have established mechanisms to develop the 30% institutional component of the CCMAS. Our students will be independent thinkers, highly skilled, result-driven and solvers of societal problems. Thus, they will emerge as entrepreneurs in their fields, of learning and be empowered to prosper. Through the support of government, we are embarking on construction of hostels through a public-private partnership.
"The staff will be more productive through the provision of modern working tools, mentoring, support and coaching. We will commence new initiatives including certificates programmes, pre-degree programmes to engage our staff, shore up our internally generated revenue and bring prosperity to all.
"A – A strong University culture of academic excellence, discipline, transparency and best practice. The high standards Universities are known for will be met and surpassed. We have plans to be innovative, and establish collaboration with leading universities across the globe. Our aim is to be a highly competitive, globally acclaimed world-class University.
"C – Catalyst to the Lagos State agenda. Our University will work closely with the Lagos State Government to conduct research in the priority areas, provide answers and be a solution think-thank to the agenda of the Lagos State Government. This way we will contribute to the socio-economic development and improve the quality of life of the good people of our State.
"T – Town and gown partnership in the context of entrepreneurial university. We do not intend to be an isolated ivory tower rather a melting point, and place of convergence for the best cross-fertilization of ideas from academia, field practitioners and industry. We plan to include industry in our curriculum,  get our students involved in project development, concept and modeling in industry, and bring industry experts to enrich our teaching and positively impact our immediate Communities.
"The university community has been sensitized and working with us to seize the unique opportunity we have to make the greatest impact."
He also disclosed that the school will admit 1,850 students into the various courses approved for the school by the Nigerian University Commission (NUC)to take off university academic activities in the school.
According to him, the NUC has approved 37 courses for the school, adding that the institution is expected to admit 50 students for each of the course according to the NUC standards.
"The NUC conducted a series of resource verification visits in September 2022. Thus, we have approval to commence 37 academic programmes in our five Colleges: College of Agriculture; College of Engineering Technology; College of Environmental design and Technology; College of Basic Sciences; and College of Applied Social Sciences.
"The University has engaged the Tertiary Education Trust Fund (TETFund) to visit us shortly so that we can continue to be a beneficiary of TETFund interventions.
"The University is admitting pioneer students into its 37 approved programmes. The admission exercise has been very transparent. New students are resuming now. We expect about 1,850 students. We thank both NUC and the Joint Admissions and Matriculation Board (JAMB) for their support."
Meanwhile, the VC appealed to individuals to support the school to grow.
He said: "Funding is key to the success of any University. Government alone cannot bear the burden. Tertiary education is very expensive. We appreciate the huge investment by the government. We call on philanthropists and well-meaning individuals to partner with us to support this new university. Such partnerships can be in the endowment of professorial chairs, lecture halls, donation of books, equipment, laboratories and computers. We would be accountable and give best value to all the resources given.
"I call on all and sundry to join hand with us to raise the banner of Lagos State University of Science and Technology, the university of excellence higher and higher."