World Clean-Up Day: LASUSTECH students clean up Isolo LCDA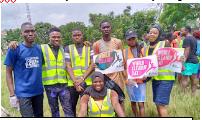 By Ibrahim Adeleke
In commemoration of the 2022 World Clean-Up Day, the students of Lagos State University of Science and Technology (LASUSTECH) embarked on a clean-up exercise across Isolo Local Council Development Area (LCDA) and the University campus.
The students, in company of some other members of the community, carried out the exercise which was organised by the National Youth Council of Nigeria (NYCN), Isolo in collaboration with Coca-Cola, Greenhill Recycling, Lagos State Waste Management Authority (LAWMA) and Recycling Alliance.
The exercise started from the Isolo Market where the students met with the Osolo of Isolo, the Iya Oloja  of Isolo, and other group of volunteers before returning to the campus where the major clean up exercise was carried out.
World Clean-Up Day is an event marked yearly, every 17th of September. The idea is to come together to implement part of the Sustainable Development Goals (SDG 6 Clean water and Sanitation and  Partnership to achieve the goal 17) to make the immediate community cleaner and better.