2 die, many injured in twin accidents in Lagos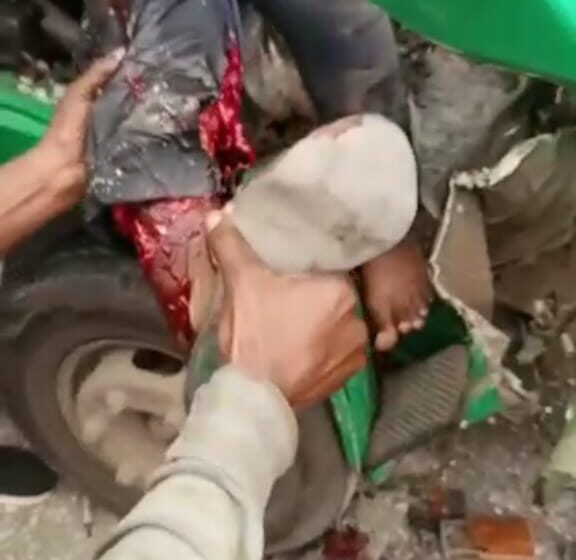 By Ibrahim Adeleke
Two persons have been confirmed dead while many others sustained severe injuries today in different accidents that happened at Alfred Rewane Road by Marriage Registry intersection, Ikoyi and Unity B/Stop inward Isheri Roundabout immediately after General Hospital around Isheri area of Igando, Lagos.
The Zonal Head of the Lagos State Transport Management Agency (LASTMA) around Isheri, Mr. Afolalu Gbenga, who confirmed the accident at Isheri disclosed that two people (pedestrian and passenger) died instantly in an accident that involved a PSP truck and Honda Civic car (black APP 79 HF) at Isheri Roundabout.
Gbega confirmed further that the two dead victims were immediately handed over to medical personnel (LASAMBUS) present at the scene of the accident.
It was gathered that a Honda Civic car lost control from the other end of the road as a result of serious over speeding and ran into a stationed PSP truck packing refuse by the road side at Isheri.
The two accidented vehicles (PSP truck & Honda Civic car) were removed from the road by LASTMA officials in order not to cause serious impediment to free flow of traffic to motorists.
Also, in a related development, another two severe accident victims and many others were rushed to hospital around Lagos Island for treatment by LASTMA officers around Ikoyi area of Lagos.
The accident, according to the LASTMA Head of Enforcement Team around Ikoyi, Bravo Age Lukman, involved a LAWMA truck and a fully loaded (goods) LT commercial bus (MUS 625 XY) around Alfred Rewane Road by Marriage Registry intersection inward Golden Gate, Ikoyi.
It was also revealed that the fully loaded LT commercial bus developed a brake failure and ran into a moving LAWMA truck close to an intersection with high speed.
Bravo Lukuman disclosed further that while the driver of the bus sustained serious internal injury on his back, his 'motor boy' had his right leg bone broken (fracture).
While those two serious accident victims were rushed to the hospital, the PSP trucks and commercial LT bus were moved to Ikoyi Police Station for further investigations.